World Menopause Day : An attempt to aware.
World Menopause Day : An attempt to aware.
The World Health Organisation in tandem with the International Menopause Society, has called upon to celebrate the World Menopause Day on October 18th, in an attempt to aware not only females undergoing the phenomenon but also others, who they are surrounded by. The motive is to create and mold well informed individuals who would emphathise with women during their phase of uncontrollable hormonal imbalance.
Menopause is a phase of declining menstruation occuring usually at the age between 45 to 50 in women, during the last years of their menstrual cycle in cases of natural menopause. The whole hormonal cycle becomes topsy turvy for a span of 7 years or so, as it needs that amount of time to reconcile a balance in the physiology of a woman's body. Many women are able to cope with the symptoms because they may be trivial, however in maximum cases women are known to experience hot flashes, irregular periodical cycle, unprecedented mood swings and dormant sex life as the estrogen count begins to decrease. Menopause maybe marked with a 12 months period, devoid of menstruation indicative of a woman's reproductive abilities reaching its ebb. In case of surgical menopause, the ovaries are removed from a woman's body which insinuates the menopause phase.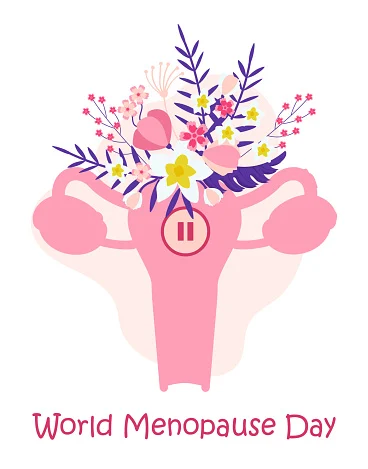 It is because of a complex hormonal change because of which women start sweating in a cool temperature and exhibit irritability at petty matters and mostly breakdown or even go into depression. People find it hard to cope with daily hassles, trying to maintain their demeanour in places that require controlled behaviour. This process occurs internally with absolutely no control from the person undergoing it. The body requires time to adjust to a change that it experiences suddenly almost after a span of 25-30 years during which the functioning was consistent. Since the transition is completely biological, there is no way to tamper with the process but it is advisable to consult a doctor or a gynecologist at this stage when situations don't seem suitable and difficult to subsist.
The purpose of World Menopause Day is to make women aware of the physiology of their own body. Not only that, but also creating empathy among others for the situational consequences of a woman's behaviour so as to help or aid them on surviving this stressful phase. Most often than not, women feel left out and difficult to understand at this point because they feel uneasy talking about it. However, this is completely normal and requires addressing it publicly without an iota of shame. Enduring it is enough itself, and doesn't require any reluctance on the part of a woman to come forward with expressing her inner uneasiness. It is on the part of society to accept it and understand if scenarios like these surface now and then, and what action would be beneficial in maintaining cordiality and hospitality with women in their resistance to this strenuous process of menopause.