State Police Commemoration Day  : Telangana reveres its Jawans for their contributions to the safety of the State
State Police Commemoration Day
The State of Hyderabad observed Police Commemoration Day on Thursday, 20th October as a tribute to the martyrs who unquestioningly lay down their lives for the nation and revered its police officials for their contributions.
Mahmood Ali, Telangana Home Minister blessed the program being held at Goshamahal Stadium with his gracious presence. The day is celebrated on October 21st throughout the nation. Around 377 policemen have given up their lives in the line of duty and it is to pay homage and reverence to these unsung heroes that the commemoration program was being conducted.
In Telengana, around 62 policemen and 10 home guards have lost their lives to Covid-19 and respective reimbursements are being offered to their families. Mahmood Ali in a statement has said that it is the duty of the government to stand by these families and safeguard them in the absence of the jawans who gave themselves up in their pursuit of protecting the State and its citizens.
M. Mahendar Reddy, the Director General of Police, has confirmed that the force is adopting more efficient methods to deal with emergency situations and are adhering to fast advancing technology in addressing citizen's concerns and in speeding up detection of offenses.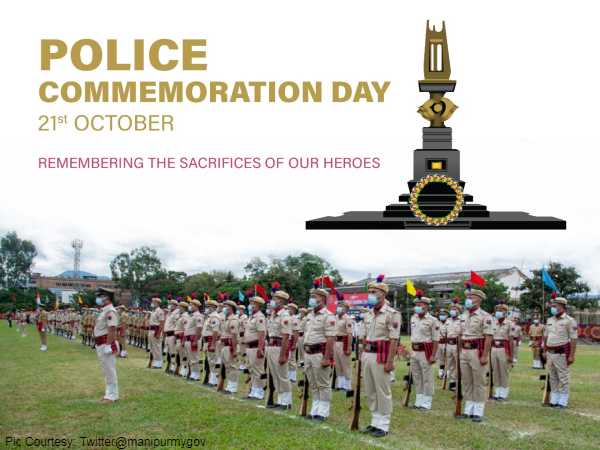 Chief Minister K. Chandrashekhar has also lauded the efforts of the Home Minister and said that the Integrated Control Command Centre has played a pivotal role in efficiently conducting communication and information flow between various departments of government functionality. the ICCC technology has been effectively utilized by the police personnel with 8.25 lack cameras already installed in the city among the entire of 15 lacks.
Other Police departments like Rachakonda Police also observed commemoration day at the CAR headquarters at Amberpet on Thursday. Commissioner of Rachakonda Police  Mahesh M. Bhagwat had organised blood donation camps, photography, essay writing and short film competitions.
The Hyderabad City Police organised a blood donation campaign at the City Armed Reserved Headquarters at Petlaburj to celebrate the occasion which was inaugurated by Anjani Kumar, the city police commissioner.
The Central Reserve Police force also commemorated the sacrifices of CRPF personnel at its Southern Headquarters in Jubilee Hills. IGP Mahesh Chandra Laddha participated in the program with others including DIG Khaja Sajjanunddin, Commandants T. VIshwanath and Rahmukuth.
The whole state at its several police quarters gathered together to pay homage to the heroic police officials who in their attempt to ensure safety, law and order in the State went to the extent of sacrificing themselves. The CM and Home Minister have announced that their ongoing surveillance agenda would be strengthened and maximized for the security of the State and for it to maintain the position of Telangana as the safest city in the nation.