Sai Pallavi clarifies the situation and breaks down "secret wedding" rumors.
Sai Pallavi clarifies the situation and breaks down "secret wedding" rumors.
Sai Pallavi, the popular actress known for her work in Tamil, Malayalam, and Telugu cinema, recently found herself at the center of a swirling rumor mill. Speculations about her secret wedding had been circulating on the internet, accompanied by a picture that fueled the gossip. However, the actress Sai Pallavi has come forward to clarify the situation and put an end to the unfounded rumors.
Taking to social media platform X (formerly Twitter), Sai Pallavi addressed the ongoing rumors in a statement. She began by expressing her indifference towards baseless rumors but emphasized the need to speak out when they involve friends who are like family. Sai Pallavi revealed that the controversial image was actually taken during the mahurat pooja (inaugural ceremony) of her upcoming film. It had been intentionally cropped and misused for malicious purposes, she explained.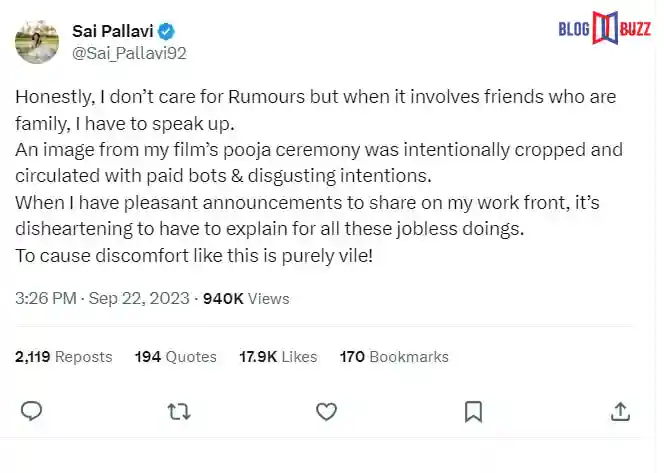 Sai Pallavi's statement read, "Honestly, I don't care for rumors, but when it involves friends who are family, I have to speak up. Using hired bots and vile motives, a photograph from the puja ceremony for my movie was purposefully edited and distributed. It's depressing to have to justify all these unemployed activities when I have happy news to give on the career front. To induce suffering like this is absolutely evil!"
The rumors gained momentum when a photograph surfaced online, showing Sai Pallavi dressed in a traditional outfit—a white kurta paired with a golden-brown dupatta. She stood beside a man in a pink shirt and blue jeans, both of them adorned with red garlands, appearing to share a moment of happiness. This image, however, was manipulated and used to fuel speculation about her wedding.
Sai Pallavi, along with subsequent reports, clarified that the picture was captured during the mahurat pooja of her new film, which was being shot in Chennai. The man seen with her in the image is none other than the film's director, Rajkumar Periyasamy, who was holding the clapboard during the original mahurat picture. Other photographs from the event featured Sai Pallavi alongside the lead actor of the film, SK21, Sivakarthikeyan, and the esteemed actor Kamal Haasan, who most likely attended as the special guest for the mahurat ceremony.
SK21, the film in question, is set against a backdrop of war, with a portion of the shooting already completed in Kashmir. Sai Pallavi, recognized for her versatile acting skills, has made her mark in multiple regional film industries. Her previous appearance was in the critically acclaimed movie "Gargi" last year.
Sai Pallavi's swift response and clarification have dispelled the rumors surrounding her secret wedding, shedding light on the misuse of an innocent image from the mahurat pooja of her upcoming film. In an era where rumors can spread like wildfire on social media, her statement underscores the importance of addressing baseless speculations. As Sai Pallavi continues to make her mark in the world of cinema, Sai Pallavi remains a prominent figure admired by fans and respected by her peers in the industry.