OMG 2: Akshay Kumar, Pankaj Tripathi, and Yami Gautam Starrer Set to Redefine Comedy-Drama Genre in 2023
OMG 2: Akshay Kumar, Pankaj Tripathi, and Yami Gautam Starrer Set to Redefine Comedy-Drama Genre in 2023
In the realm of highly anticipated films in 2023, "OMG 2" stands tall as one of the most awaited releases. Starring the dynamic trio of Akshay Kumar, Pankaj Tripathi, and Yami Gautam, this sequel to the blockbuster hit "Oh My God" is creating a stir among fans and cinephiles alike. Directed and written by the talented Amit Rai, the film is all set to captivate audiences with its unique blend of comedy, drama, and profound emotions.
The teaser for the movie was recently released, and it has caused an uproar on social media. Fans were thrilled to catch a glimpse of their favorite actors in their respective roles. Akshay Kumar, portraying the formidable Lord Shiva, has left fans awe-inspired with his impeccable portrayal, flawlessly embodying the character's nuances and appearance. As the teaser commences with Pankaj Tripathi's resonant voiceover, accompanied by stills from the first installment featuring Akshay and Paresh Rawal, it sets the stage for an enthralling narrative.
The teaser offers a glimpse into the riveting storyline, as Pankaj Tripathi and his family navigate through challenging times. It is during these turbulent moments that Akshay, in the form of Lord Shiva, makes his grand entrance into their lives. In one impactful scene, Akshay, while Pankaj stands outside the court, imparts his wisdom, saying, "Rakh Vishwas tu hai shiva ka das" (Keep the faith, for you are the servant of Shiva). The teaser cleverly maintains intrigue by keeping Yami Gautam's character concealed, heightening anticipation for her role in the film.
With its compelling narrative and social commentary, "OMG 2" promises to be a thought-provoking yet entertaining experience. Amit Rai's directorial prowess shines through in crafting a hard-hitting social comedy that transcends boundaries. The film deftly combines elements of drama, entertainment, and emotions, ensuring a cinematic journey that resonates with audiences on multiple levels.
As soon as the teaser was unveiled on social media, it created a storm of positive reactions from eager fans. Netizens flooded the comments section, showering praise upon the teaser. One ecstatic user exclaimed, "Kya baat hai! Mind-blowing teaser hai sir. Har Har Mahadev!" Another expressed their delight, saying, "Finally, the OMG 2 teaser is here. Har Har Mahadev." Even Tiger Shroff, a prominent figure in the film industry, couldn't contain his admiration for Akshay, commenting, "Guru jii" along with fire and heart emojis.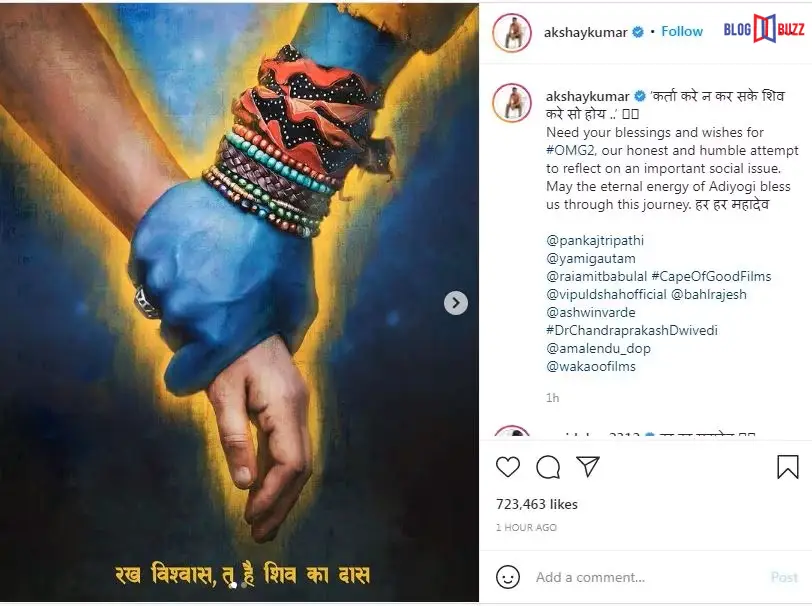 Moreover, the filmmakers have made a strategic move by attaching the "OMG 2" teaser to the highly anticipated Tom Cruise starrer "Mission Impossible 7" during its release in India, commencing from July 12. This collaboration will undoubtedly increase the visibility and reach of the film, generating further excitement among moviegoers. Marking its theatrical release on August 11, "OMG 2" will go head-to-head with Sunny Deol and Ameesha Patel's "Gadar 2," promising an intense clash at the box office.
Previously, there was anticipation for a clash between "OMG 2" and Ranbir Kapoor's "Animal" on the same day. However, the makers of "Animal" recently announced a postponement, shifting its release date to December 1. This development has further solidified "OMG 2" as the must-watch film of the season, heightening expectations and ensuring that it enjoys a well-deserved spotlight upon its release.
In conclusion, "OMG 2" has emerged as the highly anticipated film of 2023, captivating audiences with its remarkable cast, compelling storyline, and impactful social commentary. With the perfect blend of drama, entertainment, and emotions, this Amit Rai directorial promises an unforgettable cinematic experience. As fans eagerly await its release on August 11, the film is poised to redefine the comedy-drama genre and etch its name in the annals of Indian cinema.