Love Brewing in B-Town: Ananya Drops Aditya Hint, Sara Embraces Single Life on "Koffee With Karan 8"
Love Brewing in B-Town: Ananya Drops Aditya Hint, Sara Embraces Single Life on "Koffee With Karan 8"
Karan Johar inquired about the impact of their mothers on their lives, wondering if their influence is a bit too much.
In the recent episode of Koffee With Karan 8, Ananya Panday and Sara Ali Khan graced the couch, delving into discussions about their relationships, career paths, and the significant influence of their mothers.
Sara, raised by the resilient Amrita Singh after her parents' divorce, responded to Karan Johar's inquiry about their mothers being "overbearing." Sara tactfully expressed, "I wouldn't label it as overbearing. In this world, it's all about finding balance.
While having that reality check and looking in the mirror (pun intended, given the resemblance), acknowledging the situation is crucial. Honestly, the only 'pressure' of having a mom like mine is that she's the embodiment of strength. Matching up to that can be daunting at times, and it's vital to recognize our own strengths and weaknesses."
Opening up further, Sara admitted, "Making my mom proud is a major driving force, but I also realise the importance of doing things for myself. I aspire to be a mom one day, and to achieve that, I need a stronger sense of self, independent of my mom.
She's amazing, but we're different individuals. Constantly comparing ourselves can be detrimental, and I've learned that I need to embrace my own journey with its unique strengths and challenges."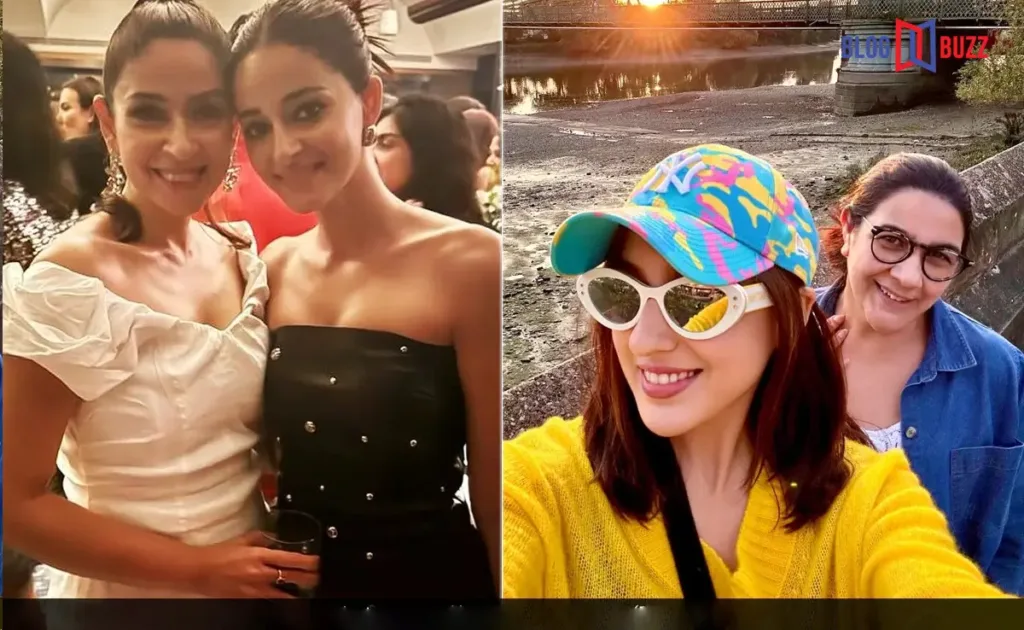 Sara Ali Khan and Ananya Panday's Surprising Link with Kartik Aaryan Revealed on Koffee With Karan 8
In a surprising revelation on Koffee With Karan 8, host Karan Johar dropped a bombshell by mentioning that Sara Ali Khan and Ananya Panday have a common link in their dating history—none other than Bollywood heartthrob Kartik Aaryan. The revelation added an intriguing twist to the conversation, as both actresses navigated the discussion with grace and humour.
Karan, known for his knack for stirring up interesting revelations, had the couch buzzing with curiosity as Sara and Ananya addressed the unexpected connection, showcasing a blend of camaraderie and poise in handling the revelation of their common ex-boyfriend. The revelation added an extra layer of spice to an already engaging episode.
Ananya Panday Drops Subtle Clues About Romance with Aditya Roy Kapur on Koffee With Karan 8
In a tantalising moment on Koffee With Karan 8, Ananya Panday dropped subtle yet intriguing hints about her relationship status, seemingly confirming a romantic involvement with Aditya Roy Kapur. The air was charged with anticipation as Karan Johar skillfully navigated the topic, and Ananya's coy smiles and carefully chosen words left fans speculating about the nature of her connection with Aditya.
The revelation added an element of mystery and excitement to the episode, making it a memorable moment for viewers who were eager to catch a glimpse into the personal lives of these Bollywood stars.
No Romance with Cricketer Shubman Gill, Sets the Record Straight on Koffee With Karan 8
In a candid moment on Koffee With Karan 8, Sara Ali Khan set the record straight about her relationship status, firmly denying any romantic involvement with cricketer Shubman Gill. The episode took an interesting turn as Karan Johar delved into the realm of Sara's personal life, prompting her to address the ongoing rumours.
Sara's straightforward response and the clarity in her words put an end to the speculations, offering fans a glimpse into her reality and showcasing her ability to handle such questions with grace and honesty.