Kannada Rajyotsava : Karnataka Foundation Day, 2022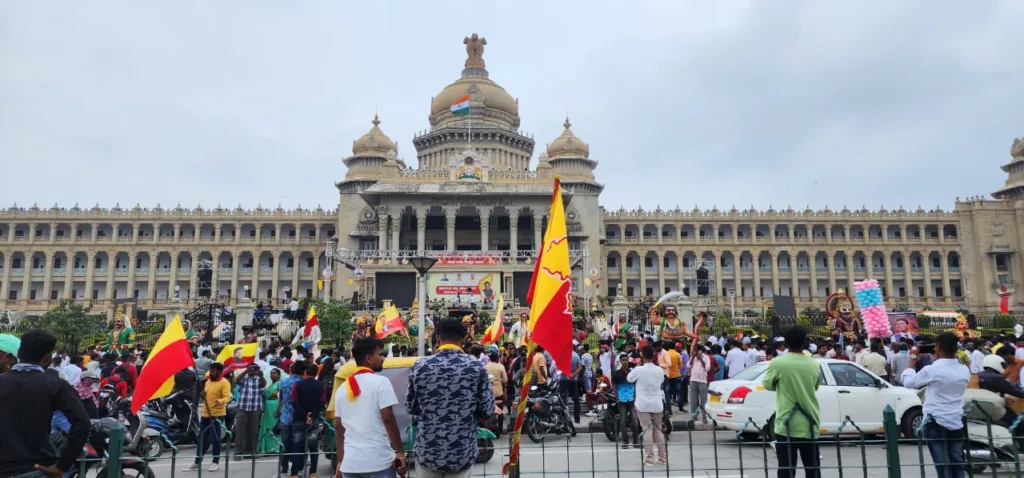 Kannada Rajyotsava : Karnataka Foundation Day, 2022
Kannada or the Karnataka Rajyotsava is the formation day of the state of Karnataka which is commemorated on November 1st every year, on account of the merger of different Kannada speaking States in 1956.
Aluru Venkata Rao attempted to lead the Ekikarana Movement and unite the Kannada speaking states. With India achieving its Republican status in 1950, many states were integrated based on linguistic familiarity. The kannadigas of Madras and Bombay townships were united with Mysore to form the Kannada speaking State of Karnataka on November 1st, 1956.
The Karnataka State on this day calls for hoisting of the Kannda flag, celebrations, parades as well as honoring of Rajyotsava Awards to various contributors to the pride of the State. Chief Minister Basavraj Bammoi, has encouraged the whole of the State to observe this day and announced holidays for schools, colleges, and other government and private institutions in order to celebrate the day to the utmost. This year, the Rajyotsava award would be presented to Late Mr. Puneeth Rajkumar at the Vidhan Saudha.
According to statements from Bammai, various admirers of Puneeth Rajkumar would be called upon to witness the honouring. Apart from him, the State would be conferring the Karantaka Ratna Award to 67 other personalities for their outstanding endowment in their respective fields or career paths.
Many private companies including, WIPRO, Accenture, Infosys and Robert Bosch are also encouraged to celebrate this day by organizing and participating in cultural activities. Schools and institutions, government or private host several cultural programs to revere the foundation day of the State.
The Chief Minister is in-charge of inaugurating the official program accompanied by activities and the bestowment of the Rajyotsava awards to the beneficiaries.
Bangaluru, the capital city of Karanataka rejoices the day to the utmost with splendor and pride as the State celebrates it day of unison.
Some of the other grantees would be film personalities, Sihi Kahi, Duttanna, Avinash and former ISRO chairman, K. Sivan to receive the Rajyotsava award as the State memorializes the 67th year of its foundation. – by Subhangi Ray