Aamir Khan and Ex-Wife Reena Dutta: Smiles at Mumbai Jewellery Shop
Aamir Khan and Ex-Wife Reena Dutta: Smiles at Mumbai Jewellery Shop
The glitzy world of Bollywood often hides tales of personal lives that are as intriguing as the characters portrayed on screen. A recent event in Mumbai turned the spotlight on Aamir Khan, one of India's most acclaimed actors, and Aamir Khan's unique journey through relationships. Aamir Khan, along with his first ex-wife Reena Dutta, made a public appearance that captured the attention of fans and media alike. The unexpected reunion also included his second ex-wife, Kiran Rao, adding an element of curiosity to the gathering.
Aamir Khan and Reena Dutta were seen in Mumbai on a Wednesday evening, engaging in a seemingly ordinary yet heartwarming rendezvous. The duo happily posed for photographers outside a jewelry shop before embarking on their shopping expedition. Aamir, adorned in a traditional kurta pyjama with combed-back hair, emanated a sense of timeless charm. Reena, on the other hand, sported an elegant kurta-pants ensemble, gracefully holding her glasses and a book. Their shared moments outside the shop were captured by a paparazzo, who aptly captioned the video with, "Aamir Khan and his ex-wife reunite, proving that sometimes, friendships outlast relationships."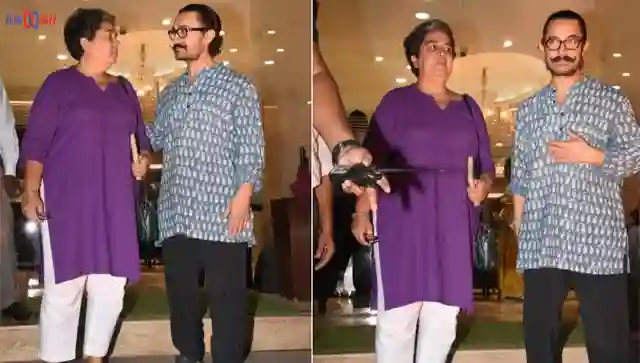 The sight of Aamir Khan and Reena Dutta together stirred memories of their past. The couple had shared 16 years of their lives together before deciding to part ways. During their marriage, they were blessed with a son, Junaid Khan, and a daughter, Ira Khan. Despite the trials and tribulations that often accompany divorce, Aamir Khan and Reena have managed to maintain a bond that transcends their marital status.
Aamir Khan's journey through relationships took another turn when Aamir Khan tied the knot with filmmaker Kiran Rao. Their union was one of creative minds, and together, they embarked on a new chapter in life. However, after 15 years of marriage, Aamir and Kiran decided to part ways. Their separation was an emotional transition, marking the end of a significant chapter in both their lives. Aamir and Kiran are parents to a son, Azad Rao Khan, and their separation marked the end of an era.
In a 2012 interview with Hindustan Times, Aamir Khan opened up about his 16-year marriage and subsequent divorce from Reena Dutta. He described their bond as special and emotionally significant. Aamir shared that after the separation, he went through a period of solitude, refraining from work for almost two years, as he grappled with his emotions. His candid remarks reflect the deep impact of these experiences on him and his emotional approach to life and relationships.
Aamir Khan's candid admission reflects the depth of his emotions and the challenges Aamir Khan faced during those pivotal moments in his life. It also highlights the significance of maintaining amicable relationships, even after the end of a marital partnership.
Aamir Khan's recent encounter with his first ex-wife, Reena Dutta, at a Mumbai jewellery shop was a touching reminder of the enduring bonds that can exist beyond the realm of romantic relationships. It also sheds light on his remarkable journey through marriages and divorces, emphasizing the emotional toll such transitions can take. Aamir Khan, a celebrated actor, has also become a symbol of resilience and maturity, demonstrating that sometimes, friendships can indeed outlast relationships. Aamir Khan's story serves as a testament to the complexities of human emotions and the capacity to navigate them with grace and understanding.