Remembering the Legendary Lata Mangeshkar: A Tribute to the Nightingale of India
Remembering the Legendary Lata Mangeshkar: A Tribute to the Nightingale of India
Today, September 28, 2023, marks what would have been the 94th birth anniversary of the iconic Indian playback singer, Lata Mangeshkar. Lata Mangeshkar's mesmerizing voice and unparalleled contributions to the world of music are celebrated not only in India but around the globe. Prime Minister Narendra Modi and Home Minister Amit Shah took to social media to pay heartfelt tributes to the late singer, who left an indelible mark on Indian music and culture.
Lata Mangeshkar, affectionately known as 'Lata Didi,' was a true gem in the world of music. Her career spanned decades, and her soul-stirring renditions touched the hearts of millions. Prime Minister Modi, in his tribute, highlighted her lasting impact on Indian music and culture. He wrote, "Remembering Lata Didi on her birth anniversary. Lata Mangeshkar indelible influence on Indian music transcends generations, leaving an enduring imprint. Her soul-stirring melodies stirred profound emotions and will eternally occupy a cherished spot in our cultural tapestry.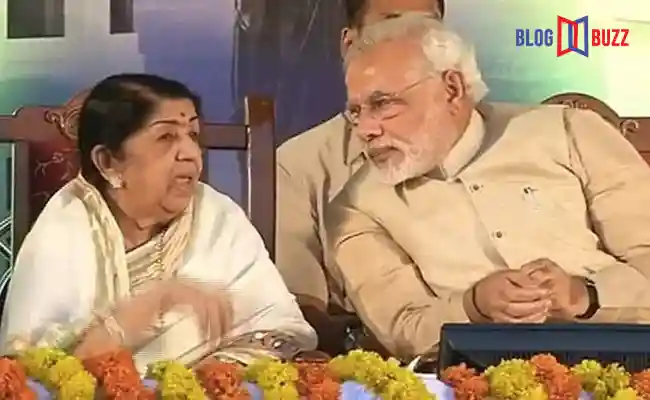 Home Minister Amit Shah, on the other hand, reflected on Lata Mangeshkar's simplicity and humility. Home Minister Amit Shah noted that she dedicated her entire life to enriching Indian musical traditions and taking them to new heights on the world stage. Her ability to remain connected to her Indian roots, despite achieving unparalleled success, served as a special example for all countrymen. Shah expressed, "Her ability to stay grounded in her Indian roots, marked by simplicity and humility, even as she achieved unparalleled heights in music, serves as an exceptional inspiration for all fellow countrymen. We pay our respects to the esteemed Bharat Ratna, Lata Didi, on her birth anniversary."
Lata Mangeshkar's journey in the music industry was nothing short of remarkable. Born on September 28, 1929, in Indore, India, she earned the title 'Nightingale of India' for her ethereal voice. Her songs resonated in every corner of the country, and even after her passing on February 6, 2022, her music continues to captivate hearts.
Some of her most iconic songs include "Aayega Aanewaala" from the movie Mahal, "Lag Ja Gale" from Woh Kaun Thi, and "Pyaar Kiya To Darna Kya" from Mughal-E-Azam. These songs are timeless classics that have left an indelible mark on the annals of Indian music history.
Throughout her illustrious career, Lata Mangeshkar received numerous awards and honors, recognizing her exceptional contributions to music. She was bestowed with the prestigious Dadasaheb Phalke Award and the highest civilian honor in India, the Bharat Ratna, in 2001. Her global impact was further recognized when France honored her as an Officer of the National Order of the Legion of Honour in 2007.
Lata Mangeshkar's talent and dedication earned her three National Film Awards, 15 Bengal Film Journalists' Association Awards, two Filmfare Special Awards, the Filmfare Lifetime Achievement Award, and four Filmfare Best Female Playback Awards, among many others. In a historic moment, she became the first Indian playback singer to perform at the prestigious Royal Albert Hall in London, England, in 1974, showcasing her exceptional talent to a global audience.
Lata Mangeshkar's influence extended beyond music, as she also engaged in philanthropic endeavors. Lata Mangeshkar was not just an artist; Lata Mangeshkar was a symbol of grace, humility, and dedication.
Tragically, Lata Mangeshkar's remarkable journey came to an end on February 6, 2022, when she passed away due to a multi-organ failure. However, her legacy lives on through her timeless music, which continues to inspire generations. Lata Mangeshkar's melodious voice and her ability to convey deep emotions through her songs make her an immortal legend in the world of music.
On her 94th birth anniversary, as we remember and celebrate the life and contributions of Lata Mangeshkar, let us reflect on the profound impact she had on Indian music and culture. Lata Mangeshkar's legacy remains an eternal source of inspiration for artists and music enthusiasts worldwide, and her songs will continue to touch the hearts of generations to come. Lata Mangeshkar's voice will forever echo as a symbol of India's rich musical heritage and its enduring power to unite and uplift the soul.