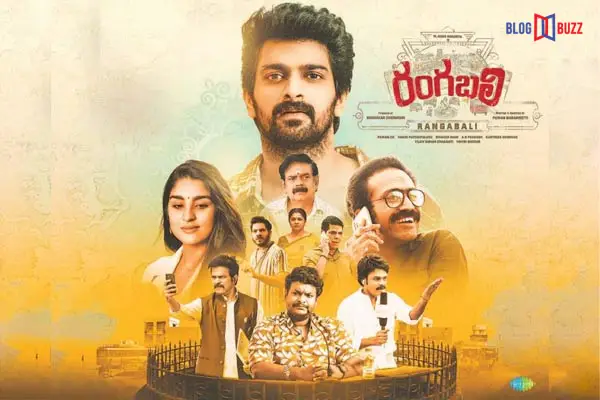 Ranga Bali Review!
In the film 'Ranga Bali,' young actor Naga Shaurya returns to the screen as a small-town guy who thrives on being in the spotlight. After a string of disappointing movies like 'Varudu Kaavalenu,' 'Aswathama,' and 'Phalana Abbayi.,' Shaurya aimed to break away from his usual soft 'lover boy' roles and showcase his versatility. However, his choice of script did not do justice to his aspirations.
Directed by debutant Pawan Basamsetti, the film intends to strike a balance between comedy and action. While the comedic elements succeed to a certain extent, the action sequences fall flat, lacking the required impact. This imbalance in the film's execution proves to be a major drawback.
The plot revolves around a love story between Naga Shaurya's character and Yukti Thareja, which unfolds after he moves from Rajavaram to Visakhapatnam. However, their relationship faces obstacles when Yukti's father opposes their union. The film could have been more engaging if it had delved deeper into the underlying violence that permeates the town, but unfortunately, it merely brushes past it in a lackluster flashback involving veteran actor Sarath Kumar. Instead, the narrative invests considerable time in unnecessary duets and fight scenes that appear out of nowhere, further diluting the film's impact.
Despite its shortcomings, the film does have some redeeming qualities. Comedian Satya shines brightly with his impeccable comic timing and clever one-liners. Prior to the film's release, Satya garnered acclaim for his internet videos, where he humorously spoofed popular TV journalists. His presence brings much-needed energy and levity to the proceedings.
Naga Shaurya plays the major role, of a carefree young man who revels in his freedom and enjoys life with his pals in Rajavaram. His desire for attention drives him to create the larger-than-life character, 'Show.' While Shaurya and Satya's humorous talents help bring the film to life, they cannot save an otherwise dull and uninteresting plot.
The love story between Shaurya and Yukti Thareja's characters serves as a focal point, but it feels underdeveloped and lacks depth. The chemistry between the two leads fails to make a lasting impression on the audience. Moreover, the portrayal of the film's antagonist, played by popular Malayalam actor Tom Chacko, is poorly etched. Chacko's attempts to salvage the role fall short and the character lacks the necessary impact to create a formidable conflict with Shaurya's protagonist.
Supporting actors such as Sarath Kumar and Murali Sharma deliver adequate performances in their respective roles, but their presence fails to elevate the film beyond its limitations. The title itself, 'Ranga Bali,' feels misleading and fails to resonate with the audience, adding to the disappointment experienced by viewers in theatres.
In conclusion, 'Ranga Bali' falls short of expectations. Despite the efforts of Naga Shaurya and Satya to infuse humour and liveliness into the film, the weak script and execution prevent it from being a memorable or engaging experience. The lack of a cohesive blend of comedy and action, underdeveloped characters, and an inadequate exploration of the town's underlying violence contribute to an overall dull and uninspiring narrative. Ultimately, 'Ranga Bali' fails to captivate audiences and falls victim to its own shortcomings.