"Celebrities Throw Love On Rocky Aur Rani Kii Prem Kahaani"
"Celebrities Throw Love On Rocky Aur Rani Kii Prem Kahaani"
The premiere of Karan Johar's highly anticipated romantic comedy "Rocky Aur Rani Kii Prem Kahaani" took place in Mumbai, dazzling the audience with its star-studded event. Cast members Alia Bhatt, Ranveer Singh, Shabana Azmi, and Jaya Bachchan, along with numerous other celebrities, graced the occasion, making it an unforgettable evening.
After the screening, the internet was abuzz with praise as several celebrities took to their Instagram Stories to share their thoughts on the film. Among them, the renowned interior designer and producer, Gauri Khan, gave the movie a perfect 5-star rating, expressing her delight with the offering.
Abhishek Bachchan, who shares a personal connection with the film through his mother Jaya Bachchan's involvement, also shared his thoughts on Instagram. He referred to "Rocky Aur Rani Kii Prem Kahaani" as a "total and complete family entertainer," recognizing Karan Johar's exceptional talent for weaving compelling narratives. Abhishek had previously collaborated with Karan in the 2006 romantic drama "Kabhi Alvida Naa Kehna," and he was pleased to see him once again in his element.
Another celebrity showering praises was the stunning Malaika Arora, who graced the premiere and posted a picture with Karan Johar on her Instagram. She called him "the man of the moment in every season" and lauded the film for successfully encompassing a wide range of emotions, love, laughter, dance, drama, and entertainment, all rolled into one unforgettable package.
Neetu Kapoor, the esteemed mother-in-law of Alia Bhatt, was all praise for her daughter-in-law's performance in the movie. She described Alia as "shining" and "gorgeous," emphasizing her talent and dedication to her craft. Alia, touched by the compliment, shared her appreciation and love in response to Neetu Kapoor's Instagram story.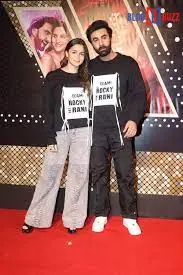 The film seemed to have left a lasting impression on Alia's mother as well. She took to her own Instagram Stories to commend the movie, referring to it as a "full-fat family entertainer" that is set to delight audiences upon its release.
The film also received accolades from the talented filmmaker Vasan Bala, who expressed his excitement through Instagram Stories. Using powerful adjectives like "Ekdum Raani Pink Rocking Dhamaka," he captured the essence of the film's entertainment quotient. Vasan Bala also acknowledged the stellar work of the "Bengali brigade" consisting of Somen Mishra, Head of Development at Dharma Productions, and the co-writers of the film, Sumit Roy, and Ishita Moitra.
Adding to the chorus of praises, Varun Grover, the acclaimed screenwriter, and lyricist, commended the performances of Ranveer Singh and Alia Bhatt. In his Instagram Stories, he hailed them as the "most watchable, fun, serious actors in Hindi cinema today," showcasing the powerful impact of their on-screen presence.
As the evening unfolded, several other celebrities took to their Instagram Stories to express their admiration for "Rocky Aur Rani Kii Prem Kahaani." Seema Sajdeh, Maheep Kapoor, Sandeep Modi, Neeraj Udhwani, and Karisma Kapoor, among others, couldn't contain their excitement and showered the film with accolades.
With such overwhelming praise from celebrities, it's evident that "Rocky Aur Rani Kii Prem Kahaani" has struck the right chords and has all the ingredients to become a blockbuster hit. The anticipation among the audience has reached its peak, as they eagerly await the release of this delightful family entertainer.