Ektaa Kapoor Makes History as the First Indian to Clinch International Emmy Award in 2023
Ektaa Kapoor Makes History as the First Indian to Clinch International Emmy Award in 2023
Get ready for the much-anticipated 51st edition of the Emmy Awards' World Television Festival, a major highlight for TV enthusiasts. The grand event is scheduled to commence on November 20 in New York, with the live streaming of the award ceremony set for November 21 at 6:30 am IST. India proudly boasts nominees in the form of the talented Vir Das, along with Jim Sarbh and Shefali Shah, adding a touch of Bollywood glamour to the international stage.
The trio made a stylish appearance at the opening cocktail night of the Emmy Awards 2023, striking poses for the cameras and engaging in lively conversations. To heighten the excitement, these three actors have not only earned nominations but also received coveted gold passes and medals for the Emmys red carpet. The International Academy of Television Arts and Sciences revealed the nominations on September 26, featuring a total of 56 nominees from 20 countries vying for victory across 14 exciting categories.
Ekta Kapoor
Ekta Kapoor, the acclaimed filmmaker, was torn between the allure of black and the vibrancy of orange for her attire at the 51st International Emmy Awards in New York City. Expressing her dilemma on Instagram stories just hours before gracing the red carpet, she revealed her initial inclination towards black but eventually settled for the striking hue of orange.
Kapoor's fashion deliberations took a backseat, however, as she stepped onto the red carpet to receive the esteemed International Emmy Directorate Award. This recognition is a testament to her substantial contributions to the realms of arts and entertainment, marking a significant milestone in her illustrious career.
Ekta Kapoor graced the ceremony in a stunning sharara set designed by
Ekta Kapoor graced the ceremony in a stunning sharara set designed by Nupur Kanoi, adorned with intricate silver embellishments throughout. Complementing her attire, she accessorised with a statement necklace, a dazzling fusion of diamonds and emeralds.
Opting for a subtle and elegant makeup look, Kapoor showcased dewy skin, accentuated eyes with a touch of kohl, generous blush to add a rosy glow, and a nude lipstick to complete the ensemble.
Her hair was styled in soft waves, adding a touch of glamour to her overall appearance as she confidently smiled for the cameras on the red carpet. Ekta Kapoor truly dazzled, effortlessly blending style and sophistication at the prestigious event.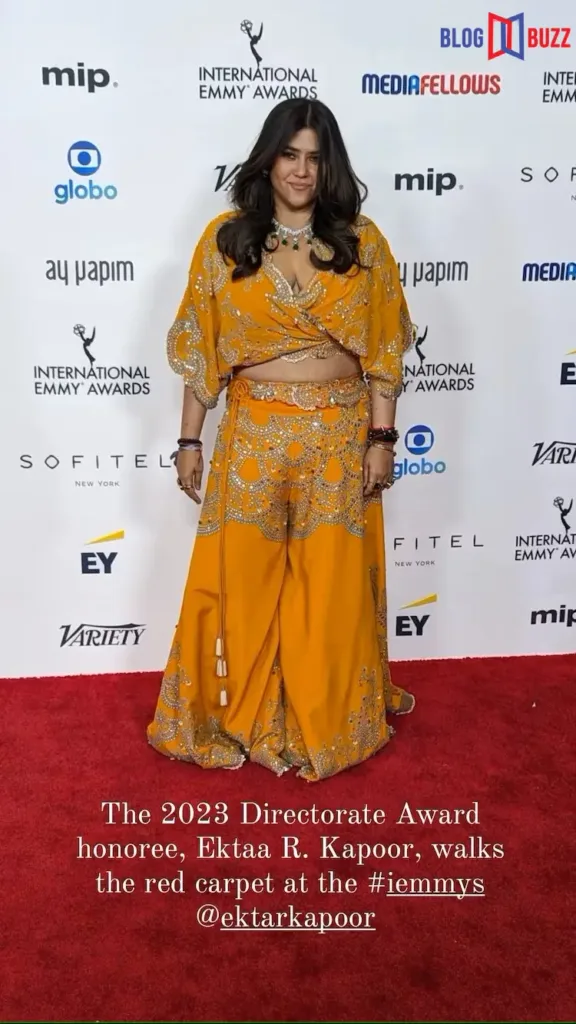 Ekta Kapoor's presence at the 51st International Emmys is not just a personal triumph but a celebration of an extraordinary journey that
Ekta Kapoor's presence at the 51st International Emmys is not just a personal triumph but a celebration of an extraordinary journey that transcends mere professional accomplishments. In her own words, the recognition fills her with profound humility and excitement, holding a special place in her heart as it symbolises a narrative that extends beyond work—a pivotal aspect of both her personal and professional life.
Representing India on the global stage is an incredible honor for Kapoor, and she acknowledges the integral role television has played in shaping her identity, especially as a woman dedicated to crafting stories for women. This award becomes a platform for her to not only represent herself but also the collective achievements of women in the industry on an international level.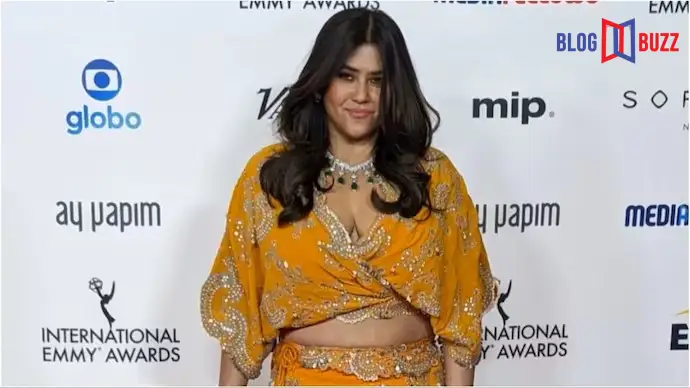 Since the inception of Balaji in 1994, a venture she embarked on with her parents, the renowned Indian movie star and producer Jeetendra Kapoor, and media executive Shobha Kapoor, Ekta has been a trailblazer in Indian television. Credited with reshaping the television landscape, she pioneered an entire genre of content and played a crucial role in India's satellite television boom. Under the Balaji banner, Ekta has left an indelible mark, producing over 17,000 hours of television and 45 films.
Her creative vision has given rise to iconic TV shows such as Kyunki Saas Bhi Kabhi Bahu Thi, Kahaani Ghar Ghar Kii, Kasautii Zindagii Kay, and Bade Achhe Lagte Hain, among others. Ekta Kapoor's impact on the Indian entertainment industry is not just measured in numbers but in the cultural legacy she has crafted over the years.